---
Gavin Newsom, often rumored to be the governor of California, is on Twitter, where he mostly talks about Florida and Texas. His favored topics are gays gays gays guns guns guns BANNING BOOKS:
(Article republished from ChrisBray.Substack.com)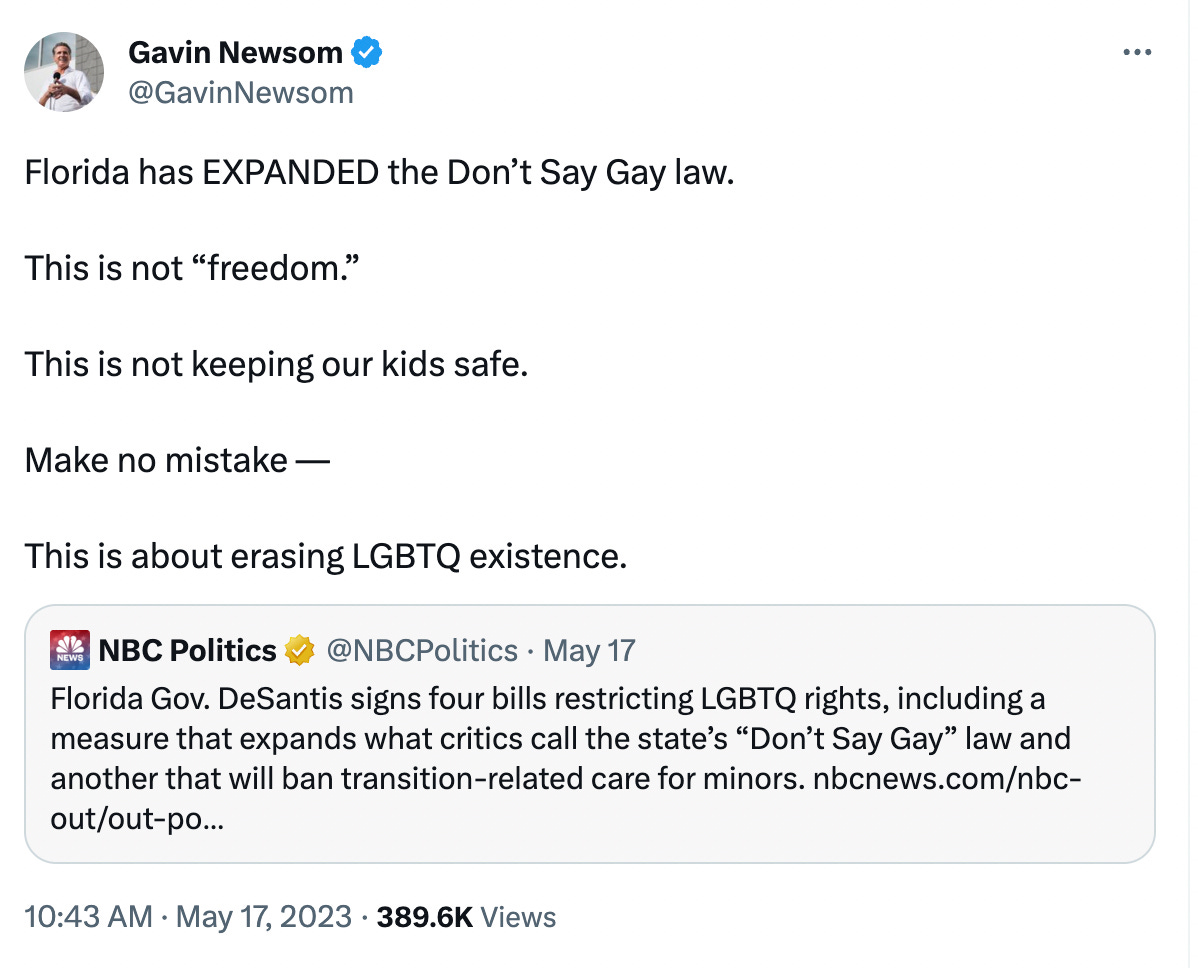 Why does the alleged governor of California mostly not talk about California? And why does he hardly ever talk about things like, I don't know, the state budget, or infrastructure, or homelessness? Why is the alleged governor of a state with a $32 billion budget deficit obsessed with a supposed plan, elsewhere, to erase LBGTQ existence?
This, ladies and gentlemen, is not a hard question to answer. Start here:
Forty percent of freeway lights in Los Angeles County — 34,000 lights — don't work, many due to thieves harvesting copper wire and fiber optic cable. Meanwhile, Caltrans is sharply reducing electrical repair staffing:
Up north, San Francisco is imploding, as the owner of the most important downtown shopping mall abandons the property to foreclosure — at the same moment two major hotels are taking the same route, dropping mortgage payments and allowing the properties to also be taken in foreclosure. Downtown San Francisco commercial property is so valuable that the companies that own it would rather just give it back to the bank.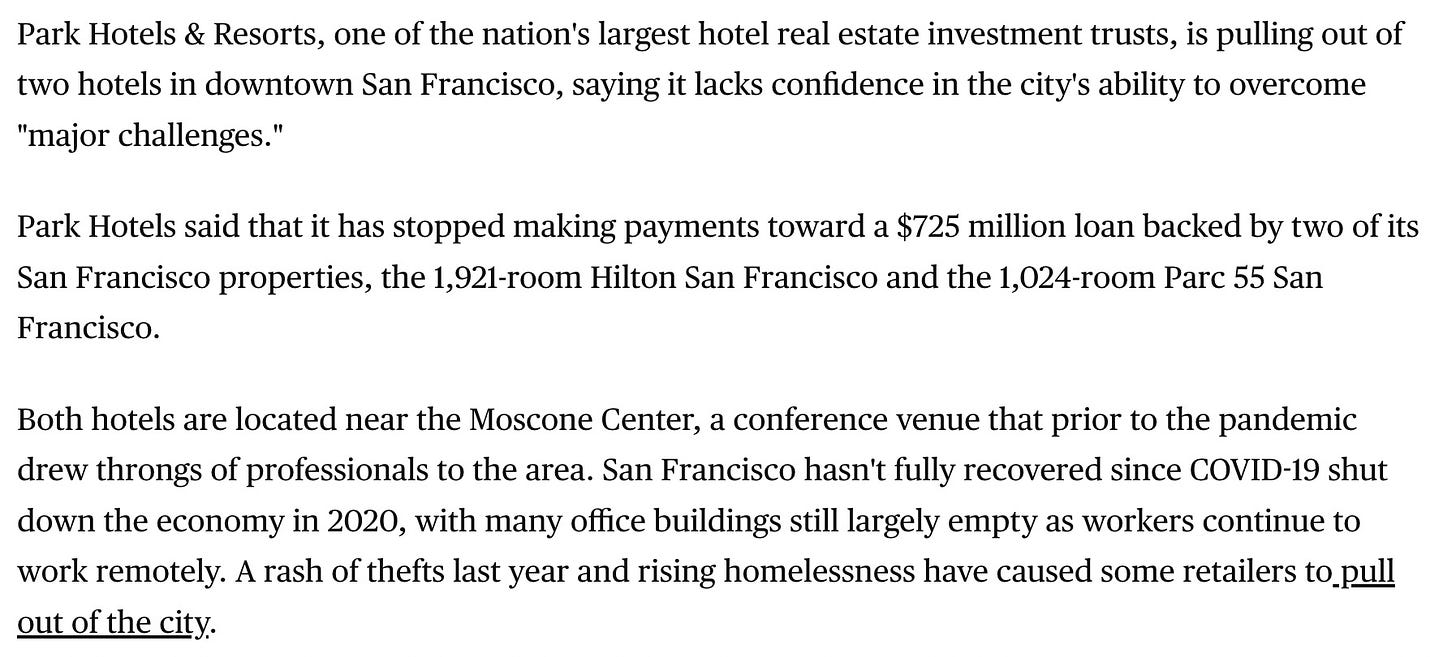 And so on. See a detailed map of major retail closures in San Francisco here.
This is California. The state approved a bullet train in 2008, started construction in 2015, and today doesn't have a single mile of track. Here's how the project is going: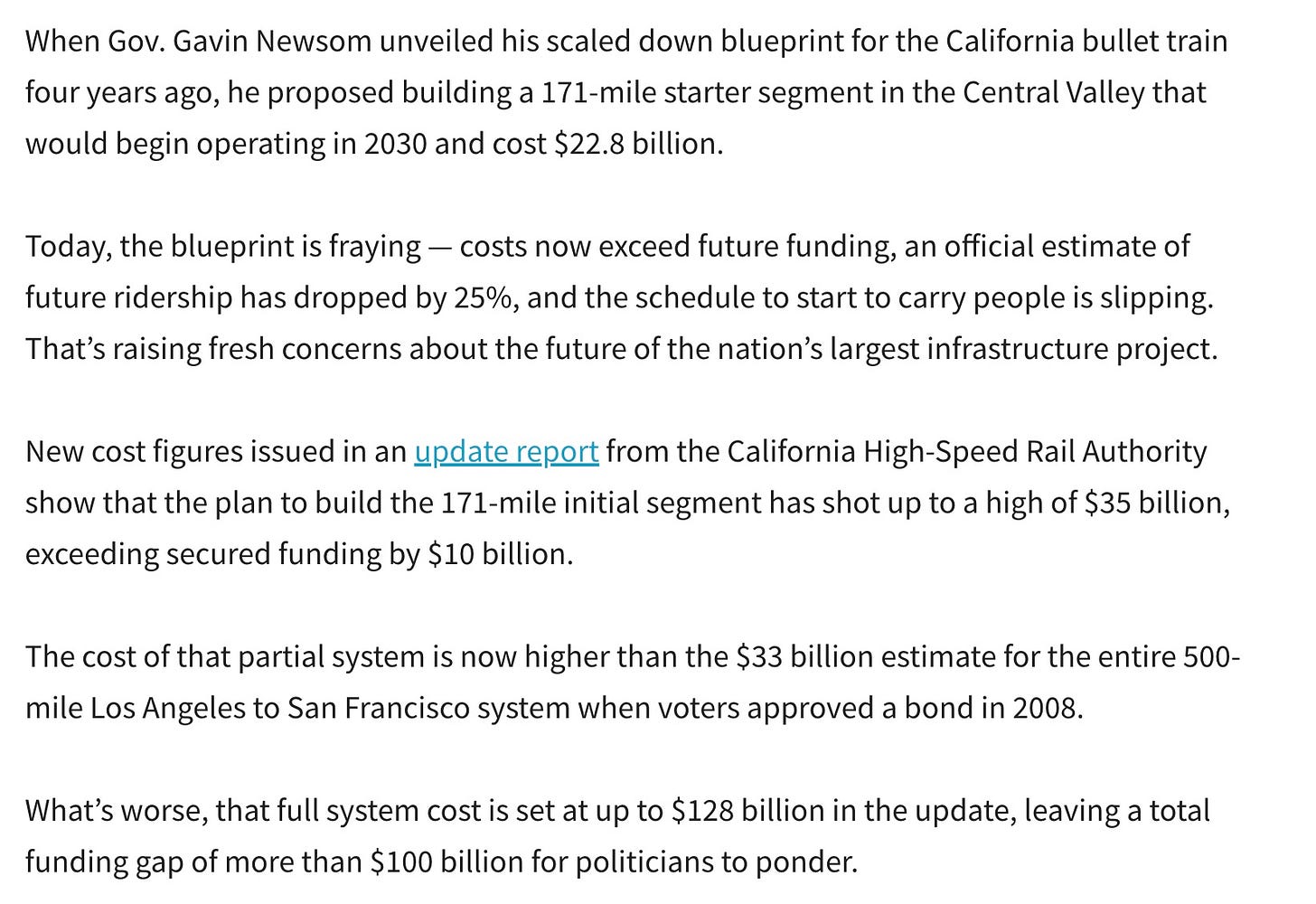 I could go on, but you get the point. California doesn't work. Pat Brown's infrastructure miracle is a distant memory. We can't build anything, we can't manage anything, we can't make anything, we can't run anything, we can't maintain anything. A place gifted with shockingly good endowment factors, born on geographic third base, is in obvious decline. California, land of the 72 degree winter, has lost 700,000 residents in three years. My mother was born in New York City, and my father was born in Evansville; they met as teenagers because their families moved to the Golden State, the land of middle class opportunity, to live better lives. That's gone. California is the past.
And that's why every other word out of the idiot's mouth is about LGBTQ oppression in Florida.
By the way, Gavin Newsom had a ten-year plan to end homelessness in San Francisco. He announced it in 2008:
I'll let you do the math.
Read more at: ChrisBray.Substack.com
Submit a correction >>